40 Foot Open Top Container
40 foot Open Top Containers are dry cargo containers except that it has no rigid roof but has a removable cover. They are designed to allow loading through the top opening and the rear doors and are consequently suitable for the carriage of heavy, bulky or long objects.
External Dimensions

Internal Dimensions

Length: 40'

Length: 39'-5"

Width: 8'

Width: 7'-8"

Height: 8'-6"

Height: 7'-9"

Internal Capacity 2360 Cubic Feet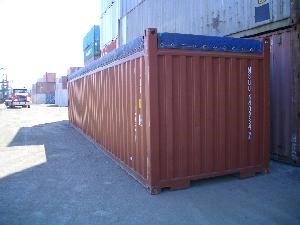 CONTAINERS FOR SALE!
20 foot and 40 foot ground storage containers are available for sale nationwide. We offer container delivery service to most areas via flatbed or tilt bed trailers. Special purpose containers and customized containers are also available.